The 3rd China Outdoor Sports Summit Forum will be opened in Nanjing Tianyun Lake Resort tomorrow! In order to ensure the smooth development of the conference, the work of the final session of the organizing committee is also in progress in an orderly manner. The organizing committee will strive to present a wonderful outdoor exchange feast for all of you!
As a member of the Organizing Committee, Mr. Yin Yanjun, Chairman of the 7 plus two, and Mr. Fan Zhiqiang, the General Manager's Office, also arrived in Nanjing to make final preparations. The finale of the forum was the fifth forum lecture. On the 27th, from 14:30 to 15:15, the seven plus two Yin Dong will bring his globalization theme "Inspiration from German Manufacturing 4.0 to the Chinese outdoor sports industry. To contribute to the development of the most advanced international outdoor sports industry development concept, Geiger will provide live broadcasts for users in the Cool Square, and will experience the trend of outdoor sports together with the trend of the most popular outdoor sports professionals. The thought of collision feast, to understand the future of China's outdoor industry how to go, we must not miss this summit forum.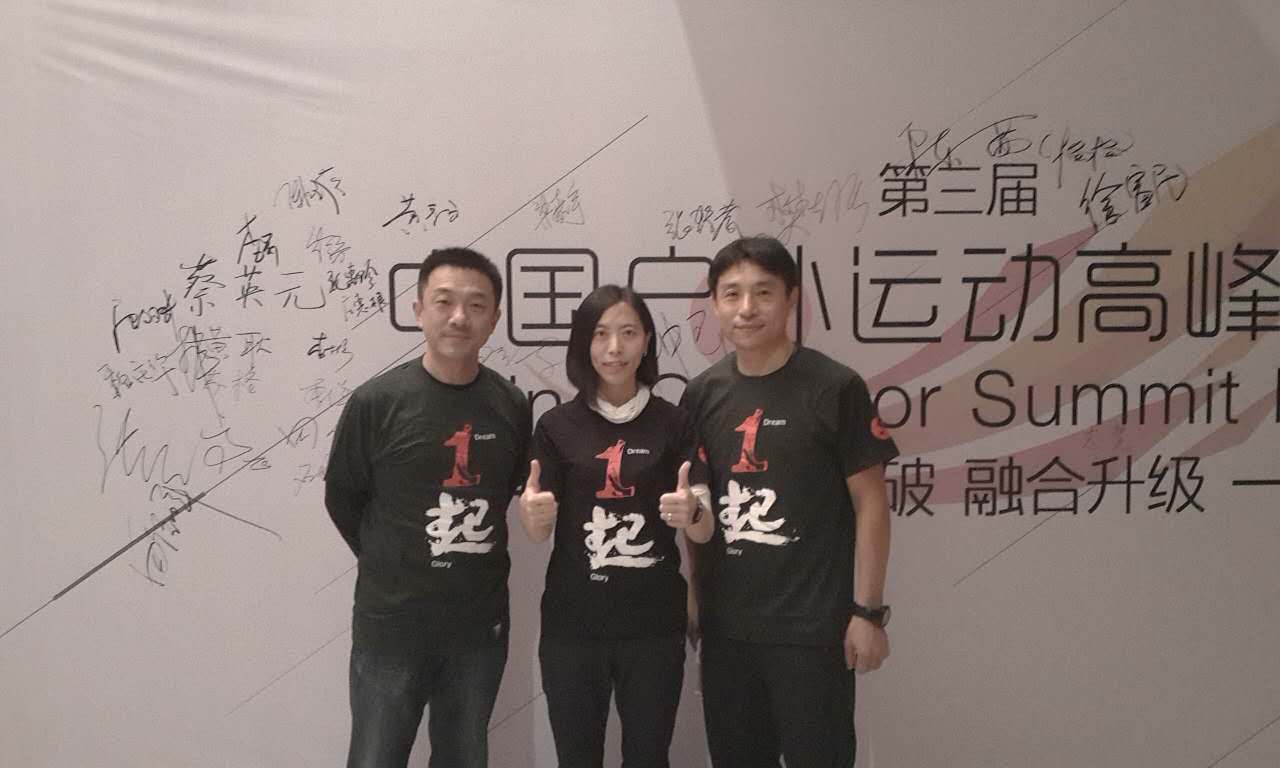 Left one: Seven Plus Two General Manager VF-Fan Zhiqiang, Right one: Seven plus two chairman and CEO - Yin Yanjun
At the same time, the discussions in this summit forum are based on innovative ideas and bold attempts. The following highlights can be expected:
1. The form of forum uses the combination of interview + lecture + small professional round table forum + running mountain activities
2. Dare to "combine with the wolf", collide with the channel competitors e-commerce predators - Jingdong Mall, Amazon, etc., and conspire with the road to innovation, change, and integration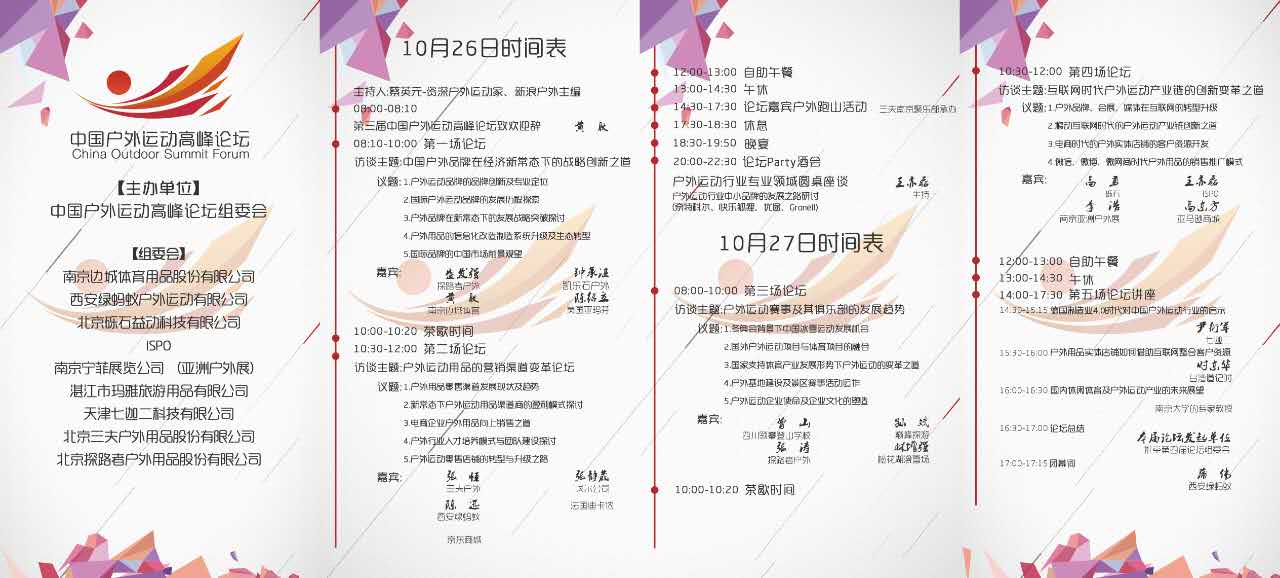 2015 Third China Summit Forum Time/Topic Discussion Schedule Announcement (Internal Information)
From the organizer to the organizing committee to the guests, this summit forum can be described as heavyweight. They represent the past, present and future of the development of the entire outdoor industry in China. When Georg arrived in Nanjing today, she was very serious and rigorous, optimistic, and relaxed about the future of China's outdoor. She was very respected and respected. Behind her low-key, easy-going, close-knit, and hard-working personality, there was a strong professional heritage. Why is it that they, the big coffee who has been fighting for more than 10 years in this industry, are leading the development of the Chinese outdoor industry. So how does Pegg helped us count the number of bosses as guests?
Mr. Huang Wei, CEO of Nanjing Border City Sports; Mr. Pu Wei, CEO of Xi'an Green Ant; Mr. Yin Yanjun, Chairman of Qiajia Second Group; Mr. Gao Yong, CEO of Gravel; Mr. Sheng Faqiang, Chairman of Pathfinder; Mr. Zhong Chengzhan, CEO of Kaile Stone; Mr. Zhang Heng, President of Sanfu; Ms. Zhang Jingye, Marketing Director of Gore, Mr. Wang Xuesong, CEO of Jingdong Mall, Mr. Gao Dongfang, Director of Outdoor Market of Amazon, Mr. Yalin Shao, Director of ISPO, Mr. Wang Yilei, Director of ISPO, Mr. Li Yu, Head of Asia Outdoor Exhibition, Sichuan Climbing School Mr. Zeng Shan, founder; Mr. Sun Bin, founder of Jinfeng Exploration Tour; Mr. Lin Qiang, Songhua Lake Ski Resort.
how about it? Are you satisfied with the arrival and combination of the above-mentioned big brothers? I would like to hear how they set off an outdoor trend in the Internet age. How to transform and break through, and upgrade and upgrade, then see it at the Nanjing venue tomorrow. It's no longer necessary for an inexperienced partner to rush through the entire live equipment to meet the appetite of the partner. .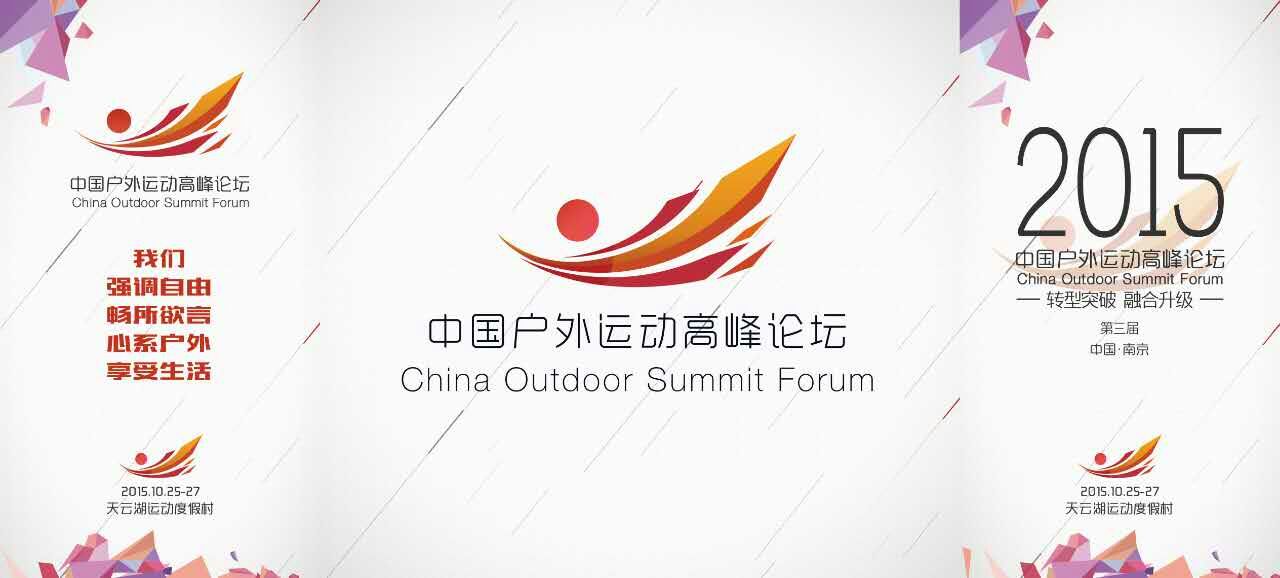 Schedule:

October 25-27, 2015 (All day on the 25th and met on the 26th and 27th) China Tianyun Lake Sports Resort (No. 1167, Shenfeng Road, Shangfang, Jiangning District, Nanjing)
Past review:

In 2011, the first China Outdoor Sports Summit Forum was successfully held in Xi'an, which had a profound impact on the Chinese outdoor industry.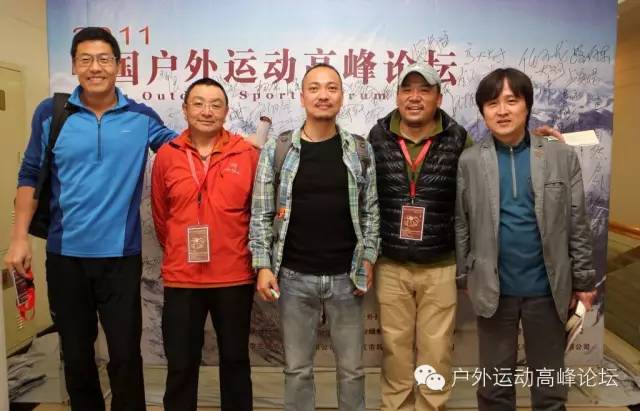 On October 29-31, 2013, the Second China Outdoor Sports Summit was held in Shaanxi Zhaojin. The theme of the forum is - Businessmen have no domain, and they have a symbiotic relationship.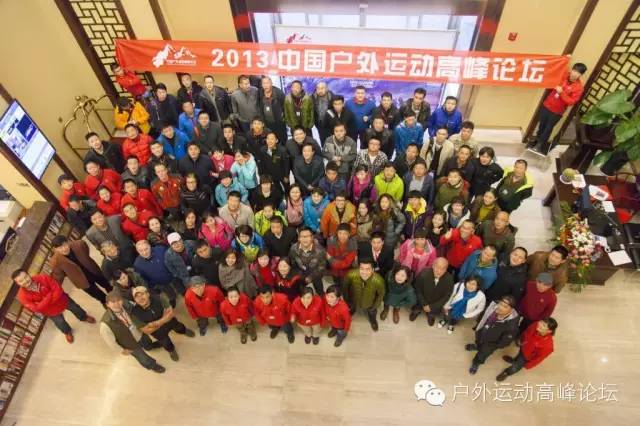 Now that two years have passed, great changes have taken place in China's outdoor industry. When China's economy gradually enters a stage of oversupply, the retail industry has experienced unprecedented difficulties. The outdoor industry's industrial chain has also experienced unprecedented impact and influence. The challenges and opportunities coexist. How do we seize the opportunity? face the challenge? In 2015, we were all on the road. In the next 10 years, we will win together!
Friends from the outdoor circle, October 25-27, 2015, our third China Outdoor Sports Summit Forum!
More interesting program content, please come cool, there are big equipment lottery! ~

【organizer】
China Outdoor Sports Summit Forum Organizing Committee
Organizing Committee
Nanjing Biancheng Sporting Goods Co., Ltd.
Xi'an Green Ant Outdoor Sports Co., Ltd.
Beijing Gravel Active Technology Co., Ltd.
ISPO
Nanjing Ningfei Exhibition Company (Asia Outdoor Exhibition)
Zhanjiang Maya Tourism Products Co., Ltd.
Tianjin Qijia II Technology Co., Ltd.
Beijing Sanfu Outdoor Products Co., Ltd.
Beijing Pathfinder Outdoor Products Co., Ltd.
【Special Network, Media】
Sina Sports
Le Sports
Tencent Sports
Phoenix Web
Local TV Newspapers in Jiangsu and Nanjing
(names not listed in order)
We have many different kinds of empty eyeshadow case.
| | |
| --- | --- |
| MOQ | 12.000pcs |
| Delivery time | 50-55days |
| Material | AS,ABS |
| Pan size | / |
| color | Injection color,spray coating color and UV metalizing color |
| logo | Silk screan and hot staping |
| Packing | paper carton |
| Place of Origin | Zhejiang |
We promise out standing service tailored to meet your demands. Our products are favored by many customers all over the world and are sold in Europe, North America, South America and Asia.
We are looking forward to your E-mail and establishing cooperative relationship with you! We would provide professional Square Cosmetic Compact with good services for you!
Empty Eyeshadow Container,Plastic Eyeshadow Case,Empty Eyeshadow Packaging,Empty Eyeshadow Case
ims Packaging Limited , https://www.ims-cosmetic-packaging.com