The development of China's electronic whiteboards (general term for projection electronic whiteboards and large-size touch panel display devices), which is mainly education and commercial, has become increasingly concentrated, leading to market competition breaking through the scope of hardware and extending to software and system solutions. In response to this market change, Aowei Consulting released an electronic whiteboard market research report, arguing that the electronic whiteboard display industry needs to adjust the direction of industrial development in order to cope with new market challenges.
The report shows that the overall sales volume of the electronic whiteboard market was 248,000 units, a year-on-year increase of 45.9%. Among them, the scale of projection products increased by 47.8% year-on-year, which was higher than the overall market growth and remained the largest product type in the market. The scale of flat products increased by 41.3% year-on-year, and the market share decreased slightly. It is estimated that the sales volume in 2013 will exceed 700,000 sets, and the growth rate of 20% will be maintained in the next few years.
Therefore, the electronic whiteboard market has attracted many industry participants under this trend. Upstream panel, touch frame, chip and board manufacturers, electronic whiteboard machine manufacturers, channel suppliers, etc. have all paid attention to it, and have made efforts in product development and services, trying to Occupy a place in the rapidly expanding market share.
In addition to electronic whiteboards, the digital signage of another commercial display device has also developed rapidly with the need for new media displays in urbanization. Its development trend is similar to electronic whiteboards. With the expansion of the market size, the upstream and downstream industries have paid great attention to the upstream and downstream. Manufacturers such as chip and board manufacturers, IT manufacturers, TV manufacturers, and large-screen manufacturers have entered the market one after another, injecting more driving force into the digital signage market.
And with the increase in business use requirements, the game's somatosensory technology, naked-eye 3D, data analysis technology, etc. have begun to penetrate the field of digital signage. Digital signage system began to develop interactively and intelligently. With the wide application of digital signage in different industries, the lag of content services has become more and more obvious. Some brands have begun to make up for their shortcomings through acquisitions or technology introduction, and provide content templates that meet the characteristics of the industry to improve the premium capacity of brand products. , Promoted the transformation of the digital signage industry from hardware to content services.
CONTUO Products presents this Manual Converter Desk . Elevate your work flow. Our Standing Desk creates a healthy work space allowing you to balance between sitting down and standing up. The 2-tier design features a monitor tabletop and a keyboard drawer. Ergonomic and innovative, this Adjustable Standing Desk features a smooth, gas-spring lift mechanism with 8 height settings. Raise or lower your work surface within seconds with the push levers located at both sides of the table. The spacious work surface can hold and display dual monitor setup while having space left over for pencil holders and other accessories. Take your productivity and comfort in the work place to new heights, with the Standing Desk Converter by CONTUO.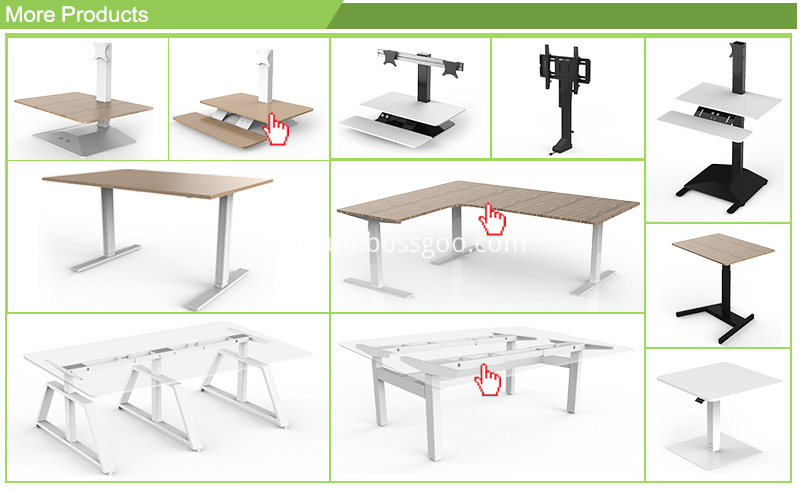 These
Electric Height Adjustable Desk
are widely used in office, home,school and other place, etc. So all
Height Adjustable Desk
are selling very well in the world market. After many years efforts, our Electric Height Adjustable Desk , and Hand Crank Desk ,Standing Desk Converter, Movable Standing Desk, Lifting Column , Tv Stand won good reputation and take very hug market share from all over the world customers.
So, here you can find all the Height Adjustable Desk for working.
CONTUO Height Adjustable Desk for office are very popular in the world.
Manual Converter Desk
Manual Converter Desk,Office Desk Converter,Manual Standing Desk Converter,Desk Riser Converter
Shaoxing contuo Transmission Technology Co.,Ltd , https://www.electricdesk.nl